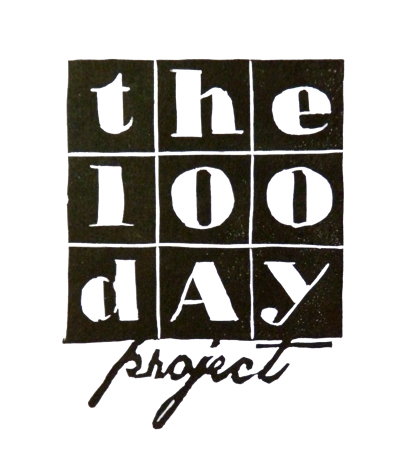 Examples of Project Spines & Rules:
Example 1:
Spine/Project Exploration:
I intend to work each day, early morning if possible, making woven paper collage pieces, and will later decide which ones I can combine into a larger work or works, probably abstract. I will start with pieces smaller than a square foot. Two collages I made last spring gave me the idea and I want to explore this technique further.
Project Rules:
1) Initially I will start with paper: solid color or decorative patterned paper purchased or created by me.
2) Some of my morning sessions can involve making the decorative paper.
3) Later if need be, I will permit myself to add other materials such as fabric, fibers, wire, yarn, string, or found materials to the pieces, and/or to the finished larger work.
Example 2:
Spine/Project Exploration:
"My project exploration is about the experience of "showing up" and my commitment to the daily task of creating.  This is my third 100 day project.  The last two projects were "art tag concept" paintings and collage both of which used found materials.
"My intention is to continue the exploration of the last two projects by carrying the themes and symbolism forward into this new one."
Project Rules:
1)      Create 100 items in 100 days.
2)      Number each tag and give them all a word.
3)      Materials:  Paper, magazine photos, old book print and illustrations, small found items.
4)      Topic Theme:  Birds and Words
5)      Permission to break the rules if I find an interesting tangent related to the project.
Example 3:
Spine/Project Exploration:
"Each day is filled with many moments. My 100 day project is to visually capture one of those fleeting moments. I call them 'momentitos".
Project Rules:
"GET IN THE STUDIO".